By now, we all know the importance of shopping sustainably. 'Reusable', 'biodegradable', 'zero-waste' and 'eco-friendly' are just some of the buzzwords racing around the internet.
Reusable cotton, bamboo and metal are the new preferences for plastic and disposables.
Along with being one of the most widely-grown crops across the world, the cotton-making process is also the most chemical-intensive.
These chemicals affect all aspects of the ecosystem – air, water, soil, and even the health of the people that grow them.
As a result, the Organic Trade Association has championed the transition to growing materials such as cotton, organically.
But where do these environmentally friendly alternatives come from?
Here at Eco Shoots, we make our products from GOTS organic cotton where possible.
Our suppliers have a certificate proving that they only use the highest quality, organic cotton.
However, not all brands are creating sustainably as organic cotton still only accounts for 0.7% of global cotton production.
What makes a product 'organic'?
Organic cotton has exactly the same purpose as regular cotton but comes with many added benefits.
The environment is at the forefront of production.
Studies show that 'organic production systems replenish and maintain soil fertility, reduce the use of toxic and persistent pesticides and fertilizers, and build biologically diverse agriculture'.
The absence of toxic pesticides, fertilizers, and genetically engineered seed helps to achieve this.
In summary, organic cotton is all regulated, all-natural, and all good quality.
What is GOTS organic cotton?
GOTS is short for the Global Organic Textile Standard.
Specifically, GOTS is the 'worldwide leading textile processing standard for organic fibres'.
This standard includes the processing, manufacturing, packaging, labelling and trading of textiles we use.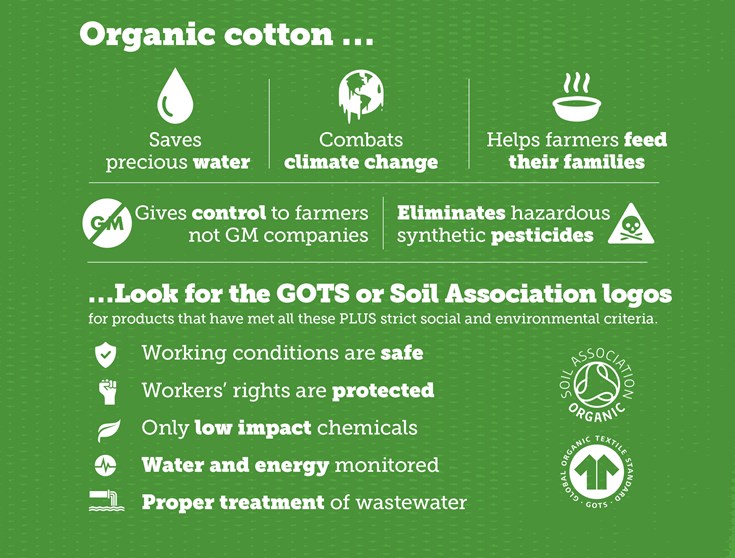 Why is GOTS cotton better than traditional cotton farming?
A certification of GOTS acknowledges the product fits rigorous government-approved testing to guarantee its organic status. This includes:
Organic raw materials are labelled and kept separate from all other materials
Water and energy usage during the process is carefully monitored
The use of toxic metals, chemicals, solvents, GMO, chlorine bleaching, and enzymes are strictly prohibited
Waste is procedurally minimised
Packing is controlled and monitored to be fully recyclable.
As well as all materials being free of toxicity and sustainably, GOTS cotton cares for workers.
Also, robust employment and anti-slavery legislation means that employees are well-treated and fairly-paid.
This means child labour, discrimination, unhygienic working conditions, and excessive working hours are all prohibited.
Furthermore, ethical business practices are applied in every single step of the process to make sure your cotton is made happily, and safely.
Why should I use GOTS cotton?
GOTS cotton is much better for the environment.
The lack of harmful materials means GOTS products are safe for everyone.
This includes your little ones!
The environmental impact of switching to GOTS cotton is colossal.
It takes 2,700 litres of water to create one cotton t-shirt alone. GOTS cotton combats this with reduced water requirements.
When you buy GOTS certified, you can be sure that the product is economically, socially AND environmentally friendly.
The GOTS quality tests and approves each piece of cotton.
Meaning that you're purchasing what you and the planet deserve. In other words: the best of the best!
EcoShoots GOTS Bamboo cotton buds
In March this year the government laid in Parliament the legislation for a ban on single use plastics.
We knew of the environmental impact of plastic cotton buds long before this.
The household names that we know pivoted to paper earbuds but we found them to be very flimsy and not up to the job.
We looked at alternatives and produced our own brand of cotton buds using bamboo and GOTS certified cotton.
You can be sure that Eco Shoots' Bambuds are 100% biodegradable and made of only the finest quality GOTS materials.
Not just for the typical ear cleaning, our customers love to use Bambuds for all sorts of quick fixes.
For example, from make-up to arts and crafts, these multi-purpose cotton buds are beyond useful.
Furthermore, we commit to donating 10% of any profits to eco charities.
As a result, with Bambuds you can confidently save money, as well as the planet.